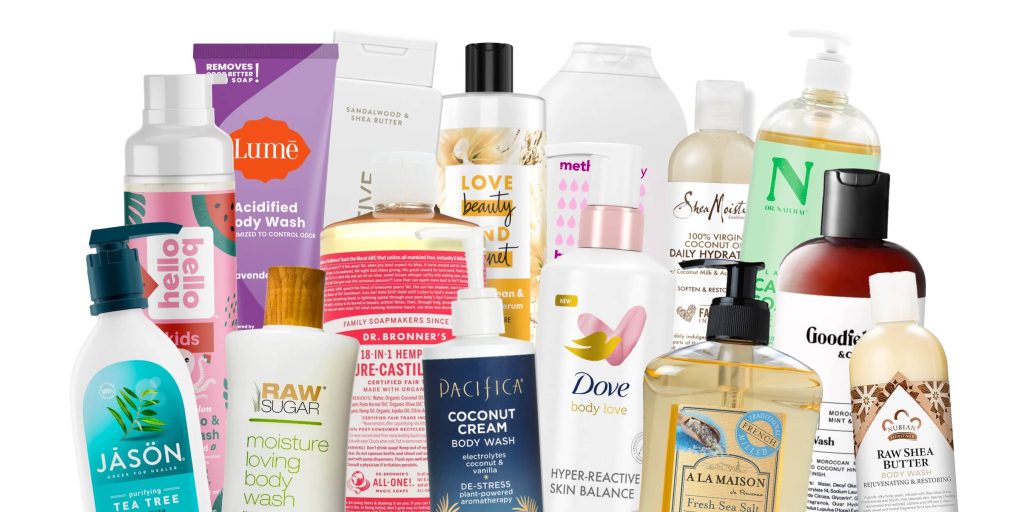 Choosing a shower gel that doesn't contain ingredients that are problematic for your health or the planet can prove to be tough. Indeed, many shower gels contain highly controversial ingredients such as phthalates, certain parabens or silicones, MIT (Methylisothiazolinone), CMIT (Methylchloroisothiazolinone), or Petrolatum 🙁
Fortunately, there are products whose compositions are free from these risky substances and which represent a better option.
So, here is Yuka's ranking of the best body washes! This ranking was done in a completely independent manner: no brand paid to be featured on here.
1

18-In-1 Hemp Rose Pure-Castile Soap - Dr. Bronner's

This product does not contain parabens or sulfates, which are ingredients commonly used in shower gels.
2

Acidified Body Wash Lavender Sage - Lume

This product contains no hazardous ingredients: no phtalates, SLS (Sodium Lauryl Sulfate) or SLES (Sodium Laureth Sulfate).
3

Watermelon Shampoo & Body Wash - Hello bello

This product is formulated without controversial ingredients such as phthalates, parabens, or formaldehyde donors.
4

Fresh Sea Salt Liquid Soap - A la Maison de Provence

The formulation of this product is very simple and contains only 7 ingredients, including coconut oil, olive oil, and argan oil.
5

Castile Soap Eucalyptus - Dr. natural

This shower gel is free from problematic ingredients such as artificial colors, parabens, or sulfates.
6

Hyper-Reactive Skin Balance Body Cleanser - Dove

This shower gel contains only two ingredients deemed low risk due to their potentially irritating nature.
7

Coconut Oil Daily Hydration Body Wash - Shea Moisture

This product doesn't contain any high risk ingredients, only two with a low level risk.
8

Coconut Cream Body Wash - Pacifica

This product contains aloe vera and hyaluronic acid and is free from harmful ingredients.
9

Raw Shea Butter Body Wash - Nubian Heritage

This shower gel is made from shea butter and contains no risky ingredients
10

No.03 Moroccan Mint & Cedar Body Wash - Goodfellow & Co

This shampoo and body wash is made without silicones, sulfates, parabens or synthetic dyes.
11

Moisture Loving Body Wash Avocado + Cactus - Raw Sugar

The composition of this product is considered excellent as it contains only 3 ingredients deemed to have a low risk.
12

Sandalwood & Shea Butter Body Wash - Native

This shower gel is made from a limited number of substances, as it contains only 8 ingredients, of which 3 are deemed to have a low risk.
13

Vanilla Bean & Hyaluronic Serum Body Wash - Love Beauty and Planet

This product is considered good as it doesn't contain any harmful ingredients; however, it does contain 4 ingredients deemed to have a low risk for their potential to irritate or cause allergies.
14

Magnolia Hydrating Body Wash - Method

This body wash is made without parabens or phthalates, and only contains 4 low-risk ingredients.
15

Purifying Tea Tree Body Wash - Jasön

This product is rated good by Yuka because it contains no high-risk ingredients, and only a few are considered to have a low risk.
To learn more about how the products in this ranking were selected, you can click here.