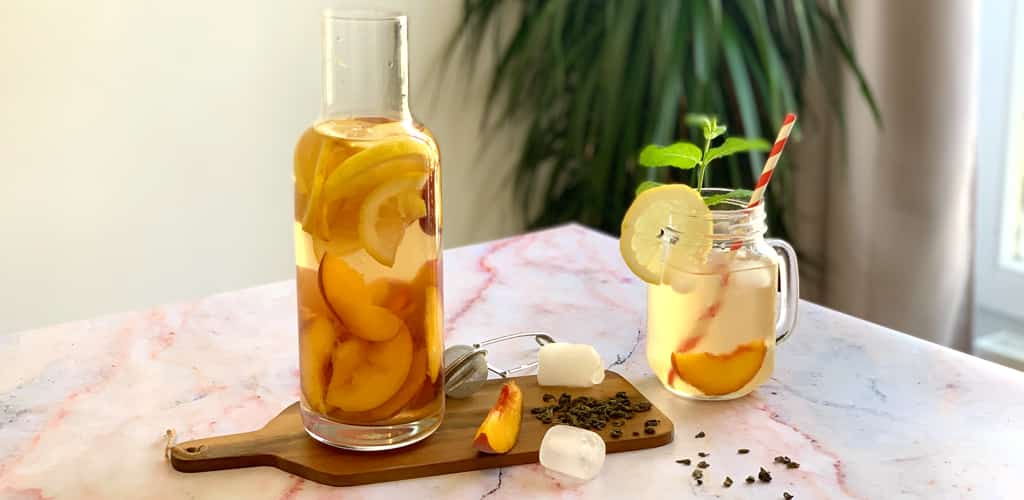 We've shared our lemonade recipe, now here is our recipe for homemade iced tea: the ideal drink when temperatures rise ☀️ And unlike industrial ice tea, it has no additives or added sugar!
🌿 Tea is rich in catechins, powerful antioxidants that help prevent the risk of cancer (read more about tea).
🍑 Peaches are rich in antioxidants, fiber and vitamin C.
To avoid pesticides on peach skin and tea leaves, opt for organic products 🌱
Ingredients
1 picher
3 yellow peaches
2.5 teaspoons green tea (or 2 tea bags)
1/2 lemon
33 fl Oz still water
Ice cubes
Optional: 1 tbsp agave syrup
1. Slice the lemon and peaches (you can leave the peach skin on to retain all the vitamins & flavours).
2. In a pitcher, steep the tea in room-temperature water.
3. Once the tea is infused, add the peaches and lemon.
4. Stir and leave to infuse for a few hours in the fridge (or overnight for a stronger taste).
5. Add a few ice cubes before serving.
You're all set! Enjoy 🙂